Chris Boardman smashes Rominger's record
---
After a rather disappointing Tour de France (no stage win) and a bronze medal in the individual TT at the Atlanta Olympics Boardman showed up at the World Track Championships in Manchester in brilliant shape.
He improved the 4000 m pursuit record from 4:19 to 4:13 and finally to 4:11.114 , beating olympic champion Andrea Collinelli. Look for the full lap-time data of the final.
After a relatively slow start he was riding almost 3,5 km with nearly 60 km/h! Like a lot of other riders he was now using the "Superman" position invented by Graeme Obree in 1995.
Please read also Fat Nick's report on the 1996 world pursuit final at Manchester Velodrome
One week after his victory he started his attempt to break Tony Rominger's record.
---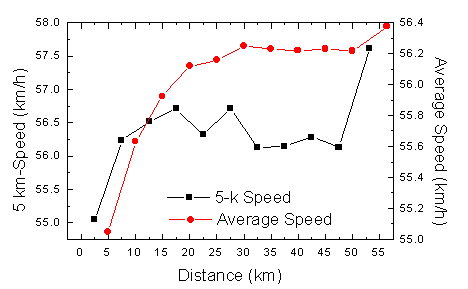 He started with an average speed of about 56.5 km/h, 1km/h faster than Tony Rominger. At 30 km his lead was 34 seconds. From this point he slowed down a little bit, maybe because the stretched out riding position was causing cramps in his shoulders. At 50 km he was almost at 56.2 km/h, but still far from falling below 56 km/h. In an breathtaking finish he rode the last 6 km with an incredible average speed of 57.7 km/h, pushing him up towards 56.375 km at the end of the hour!
Have a look at two 30 kb JPE-pictures
Check also out Fat Nick's report on Chris Boardman's hour record at Manchester Velodrome. Here is a report from cyclingnews.
Click here for a video of the last minutes of the attempt on youtube

---
More information about Chris Boardman at Greg Lunt's Chris Boardman page
Back to hour record page