Bradley Wiggins (London, 07.06.2015, 54.526 km)
---
| | |
| --- | --- |
| The picture above links to: http://keyassets.timeincuk.net/inspirewp/live/wp-content/uploads/sites/2/2015/06/WATSON_00004239-003-630x420.jpg | |


Article in "Cycling Weekly": Sir Bradley Wiggins smashes Hour Record with 54.526 km
Video: Youtube UCI channel
Split Times
km

Dowsett
Manchester, 02.05.2015
Wiggings
London, 07.06.2015
time
avg. speed
time
avg. speed
1
1.16.071
47.324
1.11.7 ?
50.209
5
5.48.279
51.682
5.33 ?
54.054
10
11.29.690
52.197
11.01.904
54.388
15
17.11.709
52.340
16.30.401
54.523
20
22.53.582
52.418
21.59.324
54.573
25
28.35.623
52.459
27.27.988
54.612
30
34.14.231
52.574
32.57.217
54.622
35
39.52.484
52.665
38.26.950
54.61
40
45.33.080
52.688
43.56.49
54.618
45
51.10.961
52.752
49.27.371
54.594
50
56.46.683
52.837
54.59.555
54.553
51
57.53.681
52.855
56.05.799
54.549
52
59.00.039
52.881
57.12.305
54.541
53
58.18.986
54.530
54
59.25.488
54.523
1 hour
52.937
54.526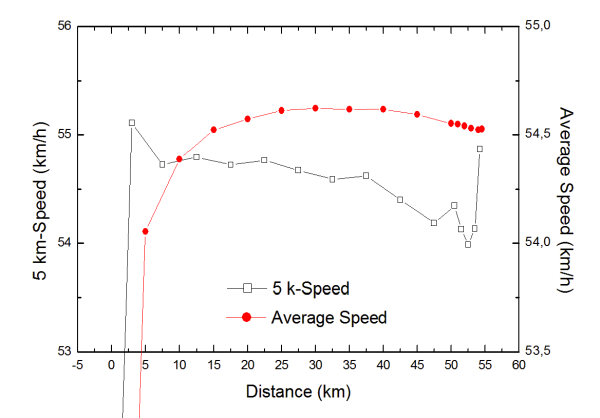 A graph by Xavier Disley (twitter.com/xavierdisley)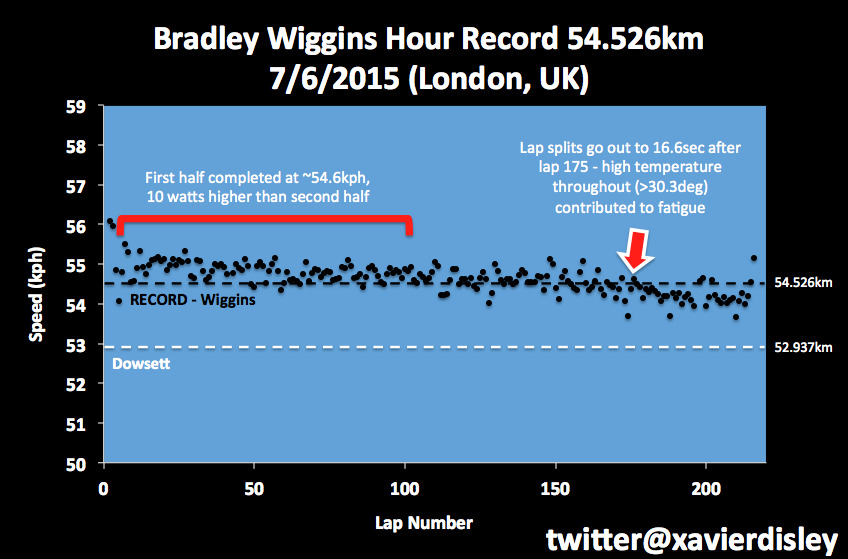 The air pressure was quite high on that day, around 1030 mbar. This means that Wiggings lost about 500 m compared to days with pressure around 1005 mbar at the beginning of june.
A graph by Xavier Disley (twitter.com/xavierdisley) showing this: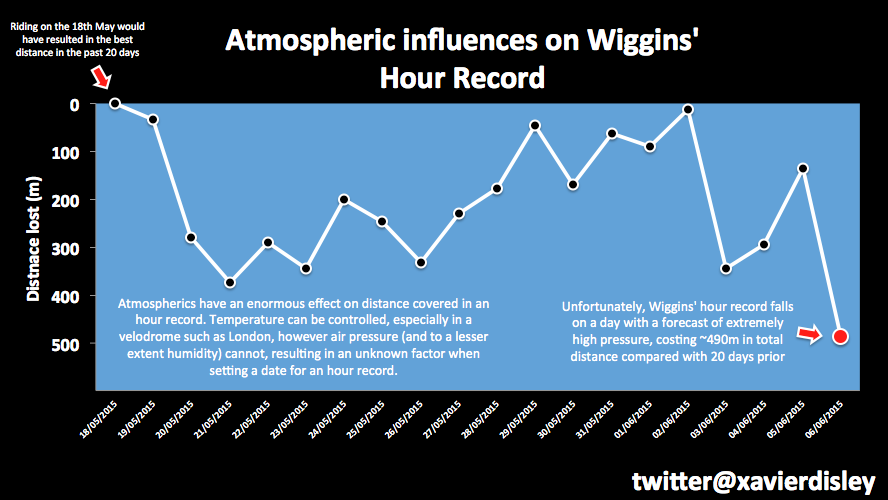 So with perfect conditions ca. 54.9 km/h should have been possible.