The Women's Hour Record
The development of the men's and women's record ("Best Hour Performance") over the years until 1996: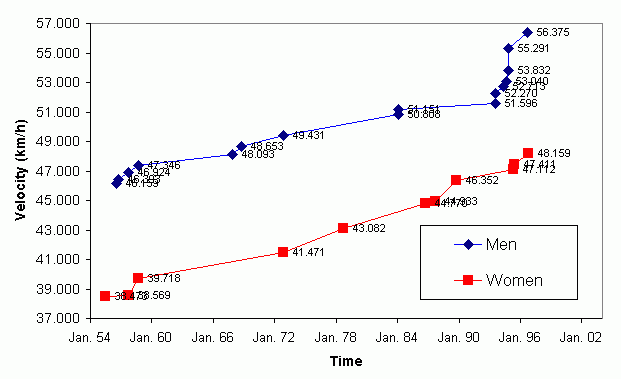 For a long time the difference between the men's and women's record was about 8 km. Then the women came quite close to the men's record in the 80's until the men made dramatic improvements from 1993 to 1996. When the UCI changed its rules 1996, Jeannie Longo's record was 48.159 km, while Chris Boardman rode 56.375 km, so again we have more than eight kilometres difference...

Looking at the "UCI Hour Record" gives a different picture: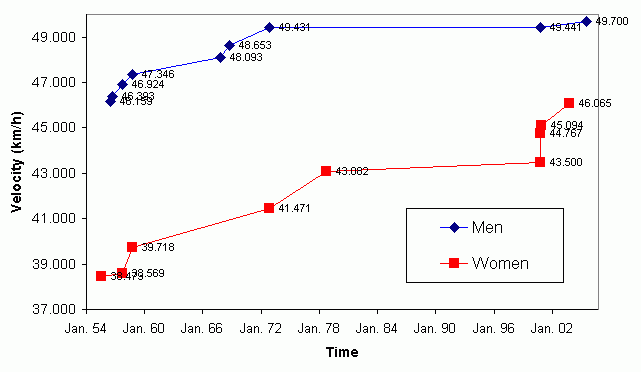 They have been ony two succesful attempt from Chris Boardman and Ondrej Sosenka after the rules changed (and quite a few failed attempts!). The women improved the old record from 1978 four times, getting closer and closer to the men's record. Finally the difference between men and women was just about 3.6 km!
The last women's attempts were made at high altitude at Mexico City, which should give roughly an advantage of 1-2 km/h, but still the small difference is impressive...
With the new rule change in 2014 we have again a new situation.. (Graph will follow...)
Chronic of the hour record
Best Hour Performance
| Kilometers | Rider | Nationality | Location | Date | Gearing | Bike Weight (g) | Crank Arm | Cadence (rpm) |
| --- | --- | --- | --- | --- | --- | --- | --- | --- |
| 38.473 | Tamara Novikova | URS | Irkoutsk | 07.07.1955 | | | | |
| 38.569 | Renee Vissac | FRA | Milan | 18.09.1957 | | | | |
| 39.718 | Mildred Robinson | GBR | Milan | 25.09.1958 | | | | |
| 41.347 | Elsy Jacobs | LUX | Milan | 11.09.1958 | | | | |
| 41.471 | Maria Cressari | ITA | Mexico City | 25.11.1972 | | | | |
| 43.082 | Cornelia Van Oosten | NED | Munich | 16.09.1978 | | | | |
| 44.770 | Jeannie Longo | FRA | Colorado Springs | 20.09.1986 | | | | |
| 44.933 | Jeannie Longo | FRA | Colorado Springs | 23.09.1987 | | | | |
| 46.352 | Jeannie Longo | FRA | Mexico City | 01.10.1989 | | | | |
| 47.112 | Catherine Marsal | FRA | Bordeaux | 29.04.1995 | | | | |
| 47.411 | Yvonne McGregor | GBR | Manchester | 17.06.1995 | | | | |
| 48.159 | Jeannie Longo | FRA | Mexico City | 26.10.1996 | | | | |
UCI Hour Record
Kilometers
Rider
Nationality
Location
Date
Gearing
Bike Weight (g)
Crank Arm
Cadence (rpm)
43.500
Anna Wilson
AUS
Melbourne
18.10.2000
44.767
Jeannie Longo
FRA
Mexico City
05.11.2000
45.094
Jeannie Longo
FRA
Mexico City
12.12.2000
46.065
Leontien Zijlaard-van Moorsel
NED
Mexico City
01.10.2003
Hour Record since 2014
Kilometers
Rider
Nationality
Location
Date
Gearing
Bike Weight (g)
Crank Arm
Cadence (rpm)
46.273
Molly Shaffer Van Houweling
USA
Aguascalientes
12.09.2015
46.882
Bridie O' Donnell
AUS
Adelaide
22.02.2016
47.980
Evelyne Stevens
USA
Colorado Springs
27.02.2016
48.007
Vittoria Bussi
ITA
Aguascalientes
14.09.2018
---
Graphs by Xavier Disley (twitter.com/xavierdisley)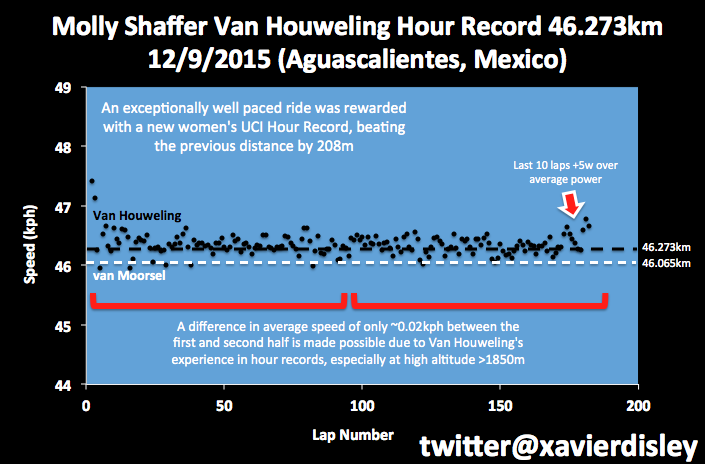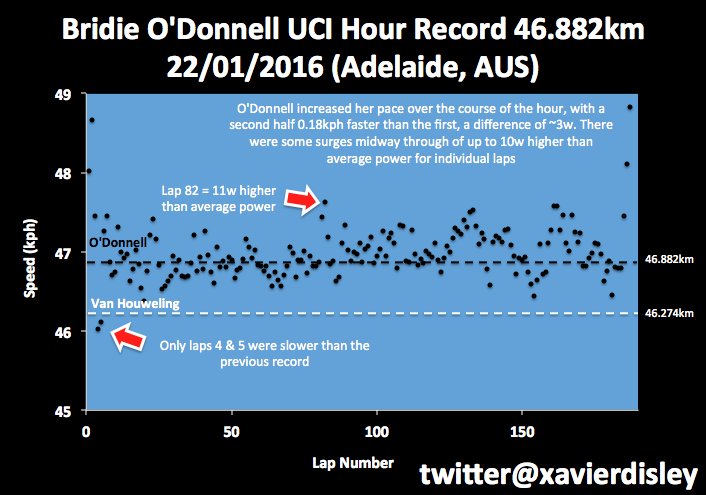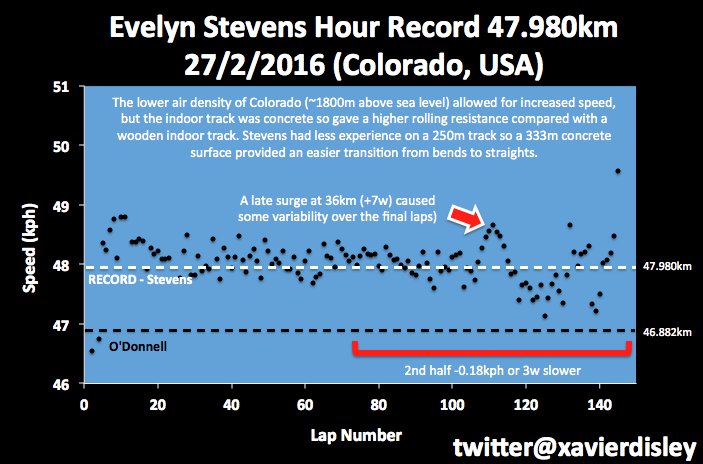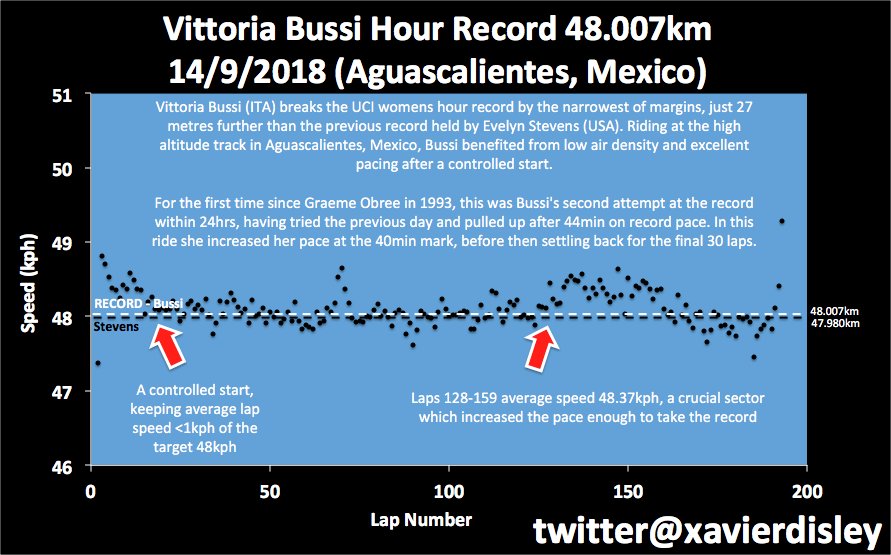 Back to the hour record page